There are thousands of online games that you can choose from if you are looking for something interesting to play online. The challenge for most people is always sifting through the many options to find what works. It can be overwhelming and to make things easier and better, you can sample from some of the popular online games which include:
Mine Craft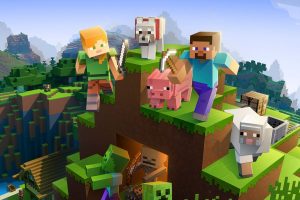 This is a sandbox video game that was developed by a Swedish developer called Markus Persson. It was released in 2011, and three years later, Microsoft bought it. It is considered to be the best selling video game, having sold more than 180 million copies and the fact that it has more than 110 million users monthly. It is a mentally stimulating game and it is supported in various platforms including android, windows, and Mac OS.
FIFA
This online game is also known as FIFA Soccer or FIFA football. It comprises of a series of football simulators or association football games. One of the reasons why FIFA is popular is the fact that it is available in more than 15 languages and the appeal of football across the globe also makes it a preferred choice by many. It is in the Guinness Book of world records as the game that has sold more than 280 million copies.
Call of duty
This online video game is a first-person shooter video game that was established in 2003. When it first started, it was focusing on things that happened in the second world war. Over the years, it has branched to other themes. It is available on many platforms including Xbox, Blackberry, Mac OS, Android, Nintendo and Microsoft Windows.
Overwatch
Overwatch is a multiplayer first-person shooter game that is team-based. The team members work to defend some control points on a map. It is available in Xbox One, Microsoft Windows, Nintendo Switch and Playstation 4. It has been played by millions of people.